Ivone Weldon's name first appeared in the media after the premiere of The Expendables 2 when her striking looks attracted the attention of many. In fact, when she walked on the red carpet, many confused her with Sylvester Stallone's mother, Jackie Stallone.
As the cast members were spotted on the premiere in the company of their families, magazines reported that Sylvester Stallone was also accompanied by his loved ones, wife Jennifer Flavin and daughters Scarlet, Sophia, and Sistine. Of course, media outlets wrote that then 91-year-old Jackie was also there to support her son.
Well, Jackie was always someone who made headlines because of many reasons. Despite being Sly's mom, she was also an astrologer who never hesitated to scold her ex-husbands publicly on various TV shows. She always spoke her mind when it came to Sly's girlfriends too and wasn't afraid to tell everyone around why she wasn't fond of them. Jackie was also involved in the beauty industry with her lines of face masks and other beauty products.
However, what Jackie was probably most known for were the many plastic surgeries she went through during her life. One thing is certain, her obsession with the surgeries did help her defy her age.
When the media spotted the elderly woman with a large trout pout and slim figure on The Expendables 2 premiere, they couldn't help but believe that was Jackie herself. The woman did look quite younger than Sly's mother, but everyone believed she had simply undergone another surgery.
However, after the stir the photos caused, it was revealed that the woman who was a spitting image of Jackie Stallone was Ivone Weldon.
On the day of the premiere, Jackie stayed home to take care of her daughter who felt ill. "I'd actually been on the phone to the paramedics that night because she was so bad. There was no question of me ever going to that premiere. I'd told Sylvester that I wasn't going to be able to make it because I had to be with his sister," Jackie told Daily Mail.
Speaking of Sly's reaction, Jackie added: "He got the shock of his life when he got told that his mother was up ahead of him, making a spectacle of herself. That's the last place I would have been."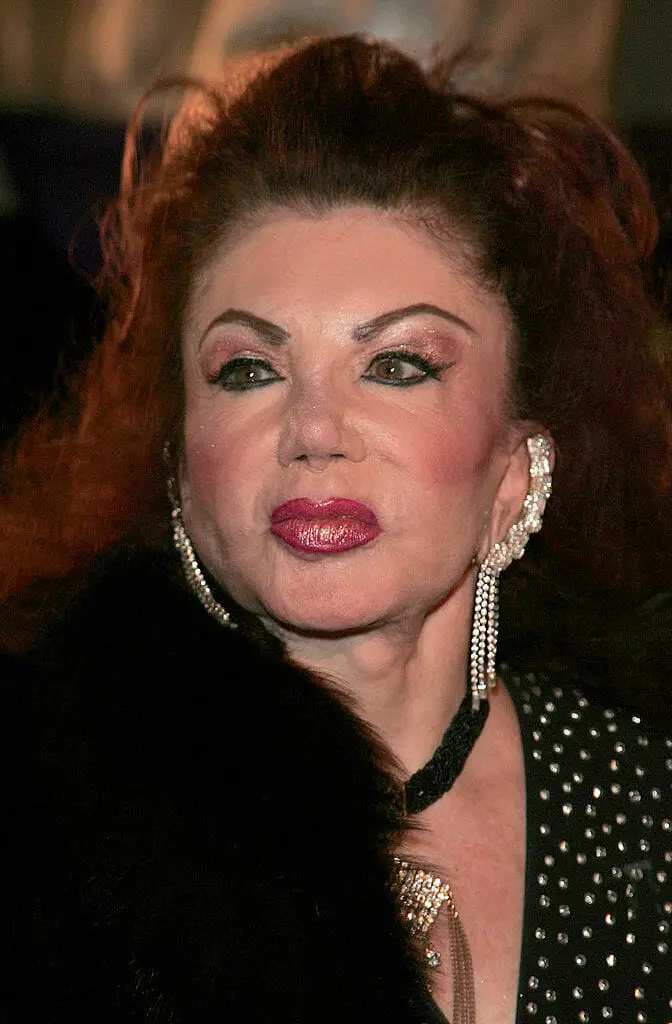 After the social media was flooded with photos of Ivone, Jackie wasn't happy.
"What an ugly woman. Fat arms. Trout pout. Horse face. I thought a face like that went out with the Ice Age. And those bandy legs! If I had a kid with those legs, I would break them and have them put in braces," she told Daily Mail of her lookalike and continued: "If I had a face like that I wouldn't leave the house — or at least not without a paper bag over my head. In fact, if I had a face like that I'd probably shoot myself. To be honest, in the end — after I got over the shock — I found it funny. I haven't had a lot to laugh about recently."
As everyone though that this confusion with the photos of Ivone was behind, they started reappearing online once again following Jackie's passing in 2020. The news of her death was announced with photos of Ivone by some media outlets.
Although not much is known about Ivone, at least the public got to learn what this woman was doing at the premiere. It turned out that she is the mother of one of the producers of the action film, Les Weldon, whose writing and producing credits include more than 70 films.